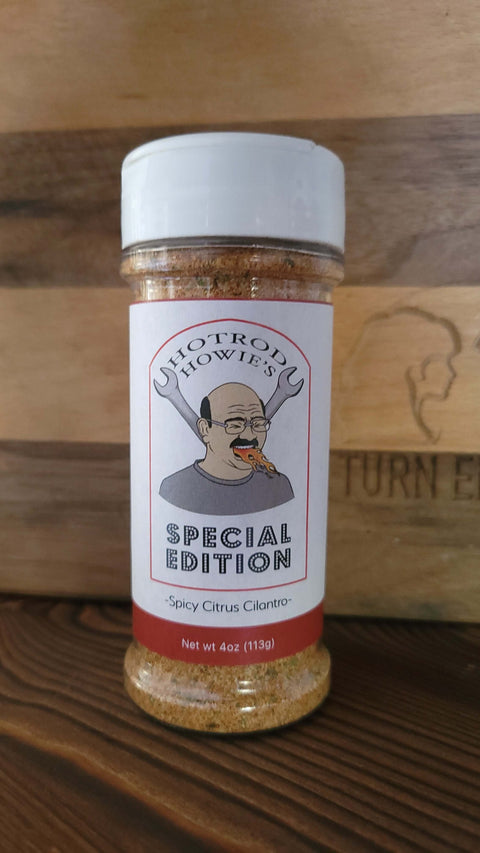 Flavor Expedition ™
HOTROD HOWIE'S
If you're looking for the perfect seasoning to kick up the flavor and heat on your Mexican dishes, this is the one! The blend of classic Mexican flavors like cumin, cilantro, and oregano will take your tacos, burritos, or guacamole from good to DAAANG!
This flavor is available only for a limited time, once they are gone they won't be back until next year! 
*Note - All profits from the sales of this product go directly to Run to the Pines Association which provides a scholarship in Howie Williams' (Anthony's late Uncle) name for a student who is studying vocational technical skills in the White Mountain communities of Northern Arizona.
*Additional discounts can't be applied.
Ingredients
Write relevant information about your products here.
Favorite Uses
Write relevant information about your products here.
Heat Level
No Heat
Mild
Medium
Hot
Super Hot
Why Adventure With Us?
Exceptional Flavors, No Fillers
All of our products contain less than 5% the recommended daily value of sodium per serving.
Each of our seasonings are made without products that contain gluten.

No Preservatives or Additives
We don't use any preservatives or anti-caking agents.

No matter your stance on MSG we'd rather leave it up to you to add it if you want it.
Explore The Rest
More expedition ready items to add to your pack!
Join us on a culinary journey where we transform humble sweet potatoes into an irresistible...