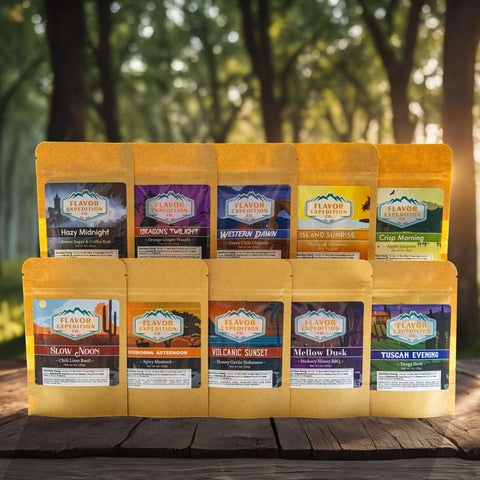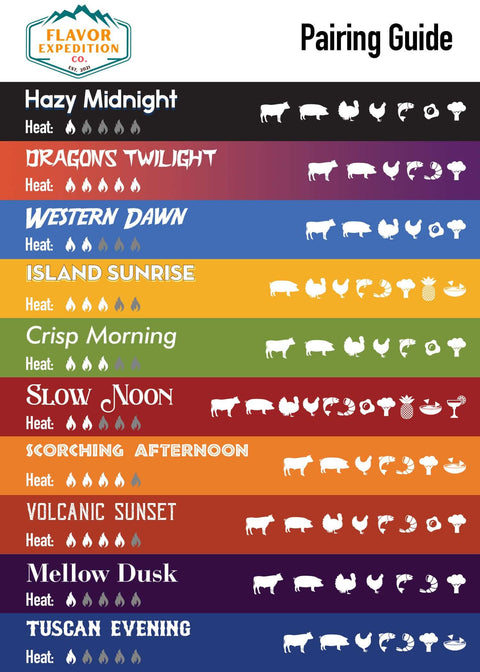 Flavor Expedition ™
Let Me Try Em - 10 Variety Spice Flight
Embark on a culinary journey with our "Let Me Try Em" Spice Flight – the ultimate passport to a world of adventurous tastes! It's a flavorful expedition featuring ten of our most exciting blends. From the bold Hazy Midnight to the zesty Scorching Afternoon and the herbaceous Tuscan Evening, every sachet is a ticket to a different flavor destination. Spice up your meals, discover new favorites, and let this pack be your guide on a seasoned adventure through the diverse world of Flavor Expedition Co. Where will your taste buds take you?
The "Let Me Try Em" Spice Flight of 1.5oz pouches includes one pouch of each of the following Flavor Expedition Co. flavors:
🌌 Hazy Midnight (Brown Sugar Coffee Rub, No Heat): A mysterious blend of brown sugar and coffee, creating a flavor profile that's both bold and comforting for your meats.
✨Dragon's Twilight (Orange Ginger Wasabi, Super Hot): Imagine the heat of the dragon's breath meeting the zing of ginger and the kick of wasabi, creating a culinary journey like no other. 
🌶️ Western Dawn (Green Chile Chipotle, Mild): Awaken your taste buds with the smoky embrace of chipotle and the bold kick of green chilies, creating a flavor sunrise.
🌅 Island Sunrise (Pineapple Habanero, Medium): Transport your taste buds to a tropical paradise with the sweet embrace of pineapple and the fiery kick of habanero.

🍏Crisp Morning (Apple Jalapeno, Medium):  Picture the freshness of a morning apple orchard meeting the zesty kick of jalapeño – a tasty adventure that's perfect for eggs, pork, and chicken. 
🌶️ Slow Noon (Chili Lime, Mild): Spice up your midday meals with the invigorating fusion of chili and lime, turning your seafood into a lively midday escape.
☀️Scorching Afternoon (Spicy Mustard, Hot): Our spicy mustard seasoning that turns every dish into a flavor-packed adventure!
🔥 Volcanic Sunset (Honey Garlic Habanero, Hot): Ignite your wings with the explosive combination of honey, garlic, and habanero, creating a sunset of flavor.
🍯 Mellow Dusk (Hickory Honey BBQ, No Heat): Experience the perfect harmony of hickory, honey, and BBQ, turning your wings into a savory dusk delight.
🌿 Tuscan Evening (Tangy Herb, No Heat): Conclude your flavor voyage with the herbaceous elegance of Tuscany, infusing your evening seafood with a touch of Mediterranean magic.
**Due to our rebrand, the label may be different than pictured.
Why Adventure With Us?
Exceptional Flavors, No Fillers
All of our products contain less than 5% the recommended daily value of sodium per serving.
Each of our seasonings are made without products that contain gluten.

No Preservatives or Additives
We don't use any preservatives or anti-caking agents.

No matter your stance on MSG we'd rather leave it up to you to add it if you want it.
Explore The Rest
More expedition ready items to add to your pack!
Join us on a culinary journey where we transform humble sweet potatoes into an irresistible...
Best Ever
Haven't tried them all yet but love the ones that I have tried. I put Dragons Delight on everything now. The milder ones are for the family. Turn them Red will replace all of my other spices immediately
So yummy! Fast delivery too.
We ordered 250 spice packs for a company gift and they came so fast and at such a fair price for the amount you get!!