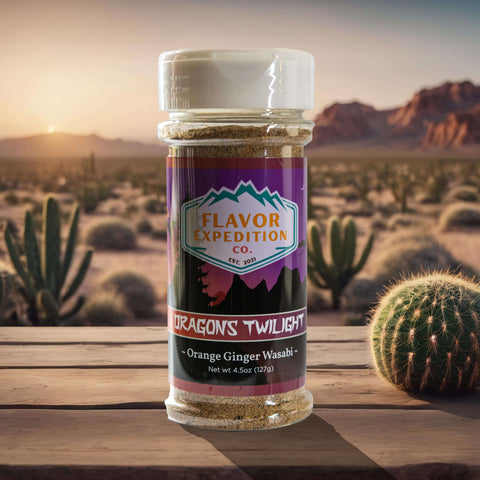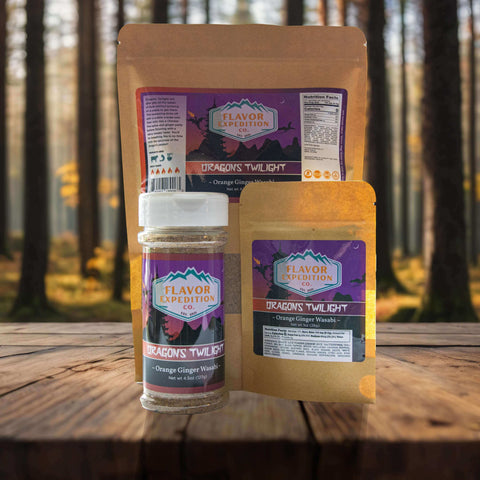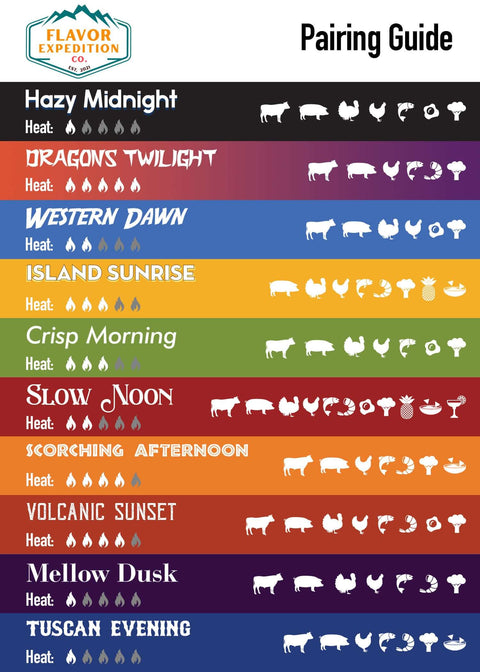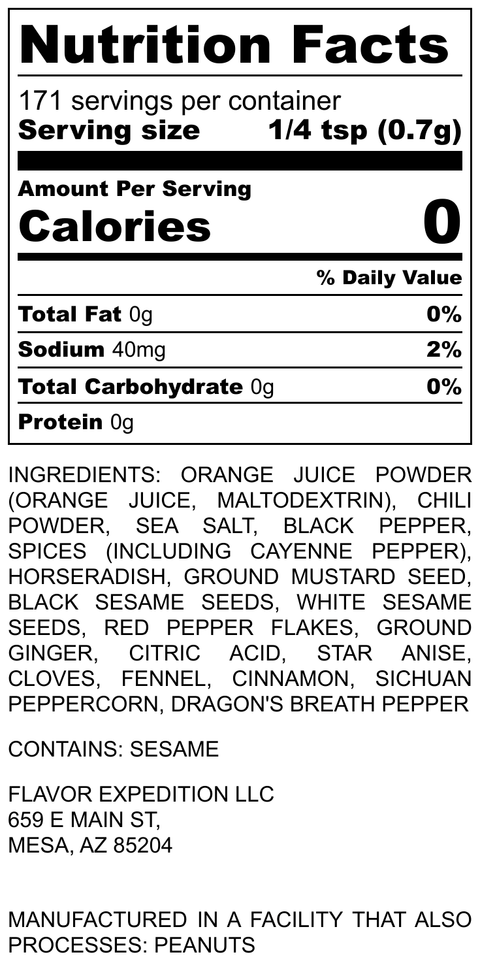 Flavor Expedition ™
Dragons Twilight
Ignite the flames of flavor with Dragons Twilight – a fiery blend of orange, ginger, and wasabi that will awaken your taste buds! Ideal for stir fry, broth, or seafood, this seasoning isn't just spicy; it's an expedition into the bold and flavorful unknown. Imagine the heat of the dragon's breath meeting the zing of ginger and the kick of wasabi, creating a culinary journey like no other. Join the Flavor Expedition and unleash the dragon within – because every meal should be a bold conquest of taste!
 *Note: All 20oz Bags are made when ordered. Please expect a few days delay in shipping.
**Due to our rebrand, the label may be different than pictured.
Ingredients
ORANGE JUICE POWDER (ORANGE JUICE, MALTODEXTRIN), CHILI POWDER, SEA SALT, BLACK PEPPER, SPICES (INCLUDING CAYENNE PEPPER), HORSERADISH, GROUND MUSTARD SEED, BLACK SESAME SEEDS, WHITE SESAME SEEDS, RED PEPPER FLAKES, GROUND GINGER, CITRIC ACID, STAR ANISE, CLOVES, FENNEL, CINNAMON, SICHUAN PEPPERCORN, DRAGON'S BREATH PEPPER
Favorite Uses
Beef Kebabs
Shrimp
Noodles / Soup
Heat Level
Why Adventure With Us?
Exceptional Flavors, No Fillers
All of our products contain less than 5% the recommended daily value of sodium per serving.
Each of our seasonings are made without products that contain gluten.

No Preservatives or Additives
We don't use any preservatives or anti-caking agents.

No matter your stance on MSG we'd rather leave it up to you to add it if you want it.
Explore The Rest
More expedition ready items to add to your pack!
Join us on a culinary journey where we transform humble sweet potatoes into an irresistible...