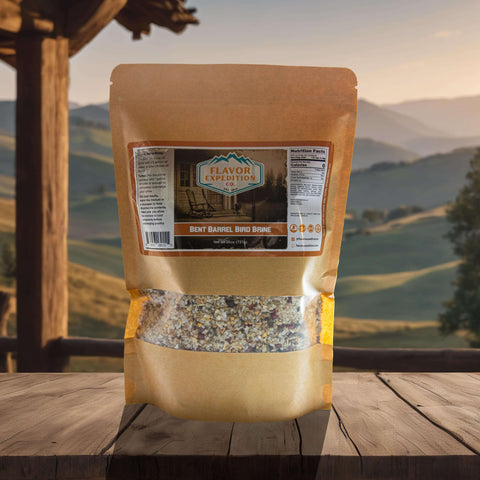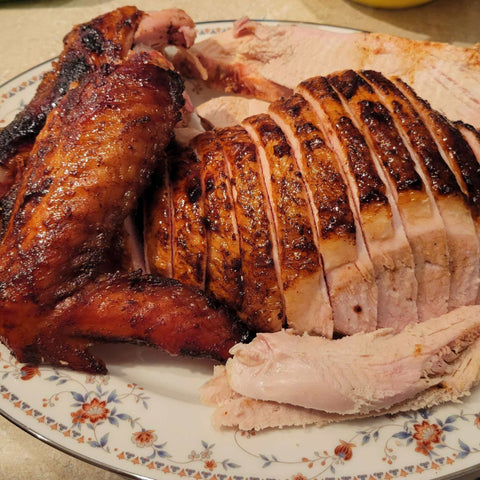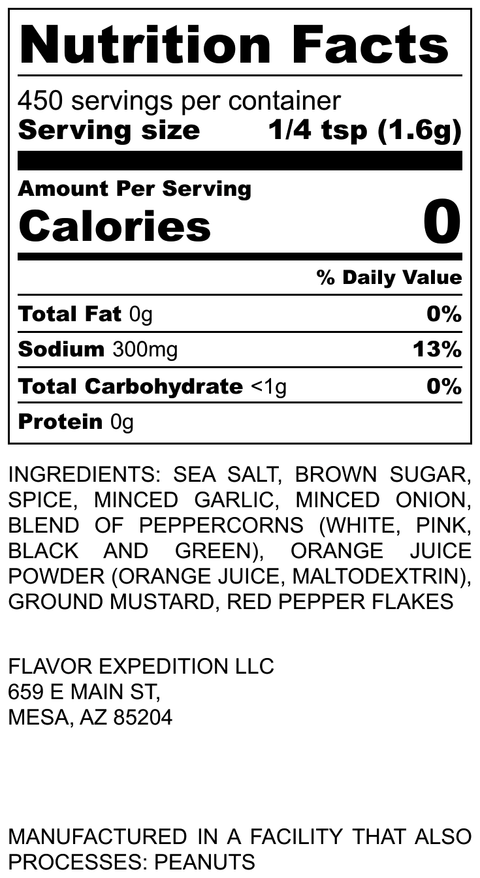 Flavor Expedition ™
Bent Barrel Bird Brine
Embark on a mouthwatering expedition with our Bent Barrel Bird Brine – the passport to a world of flavor for your feathered feasts! This isn't just any brine; it's a flavorful journey through a blend of premium spices and herbs. Visualize your chicken, turkey, or any bird taking flight into a world of savory delight. With Bent Barrel Bird Brine, your meals reach new heights of taste, making every dish a savory summit in your culinary escapades!
Transform the turkey served at your table this year with the exceptional quality of Bent Barrel Bird Brine! Our expertly blended mix of beloved flavors provides the perfect starting point but feel free add any and all additional seasonings to make it yours.
We strongly recommend brining your poultry in a food safe container for a minimum of 1 hour per pound though doing it overnight is the most convenient. Make sure to completely rinse your poultry after brining and pat completely dry before adding your favorite seasoning.
Mixing Instructions:

Chicken: Mix 1 cup of brine with 1/2 gallon of water, chicken stock, chicken broth or your choice of liquid. 
Turkey:

 Mix entire contents of the package with 1 gallon of water or enough to completely submerse your turkey. 
Optional - You can warm the mixture in a sauce pan to help dissolve the contents. Make sure you chill the mixture completely before submersing poultry.

Bent Barrel Bird Brine is crafted to boost the tenderness and flavor of any poultry. Infused with the aromatics of garlic, allspice and clove, and the delicate hints of citrus and sage, your bird will be imbued with unforgettable flavor. Each bird will be bathed in moisture and flavor, guaranteeing your family will be impressed every time.
Ingredients
SEA SALT, BROWN SUGAR, SPICE, MINCED GARLIC, MINCED ONION, BLEND OF PEPPERCORNS (WHITE, PINK, BLACK AND GREEN), ORANGE JUICE POWDER (ORANGE JUICE, MALTODEXTRIN), GROUND MUSTARD, RED PEPPER FLAKES
Favorite Uses
Why Adventure With Us?
Exceptional Flavors, No Fillers
All of our products contain less than 5% the recommended daily value of sodium per serving.
Each of our seasonings are made without products that contain gluten.

No Preservatives or Additives
We don't use any preservatives or anti-caking agents.

No matter your stance on MSG we'd rather leave it up to you to add it if you want it.
Explore The Rest
More expedition ready items to add to your pack!
Join us on a culinary journey where we transform humble sweet potatoes into an irresistible...